The Free Methodist Church USA (FMCUSA) General Conference, held in Orlando, Florida from July 24 – 28, 2023, was a landmark event that brought together members from across the country. While the Annual Conference unites us regionally, the General Conference occurs every four years, serving as a pivotal moment for the national church. Here, members partake in dynamic dialogues on resolutions (¶4010), elections are held for the Board of Administration and for our three-person Board of Bishops, and a shared vision for the future is crafted.
Southern California was represented by 20 delegates, elected by you at the 2022 Annual Conference. These individuals were Ed Song, Serena Oriero, Wendy Seyfert, Liz Cornell, Ta'Tyana Leonard, Aaron Mills, Eleitino Tuiasosopo, Sandy Patterson, Jon Sato, Charles Latchison, Soo Ji Alvarez, Colleen Hurley-Bates, Fraser Venter, Refugio Sanchez, Emmanuel Moon, John Rittenhouse, Jannet Guzman, and Cheri Coleman.
Upon arriving in Orlando, these delegates did more than just represent. They took up critical roles, becoming the embodiment of the Conference's spirit to the General Church:
Charles and Carolyn Latchison led the Prayer Summit.
Soo Ji Alvarez managed the main proceedings as Main Stage Master of Ceremonies.
Robert Marshall provided an inspiring Morning Devotional on Day 3.
Ed Song led a Focus Group on God-Given Revelation.
Helen Rhee's breakout session invited attendees to reflect on faith and fairness.
Mark Bates served as a Parliamentarian, ensuring orderly procedures.
Glen Prior added a touch of wisdom on the Main Stage.
Chris Frazier ensured a seamless technical experience for attendees.
Fraser Venter provided guidance in the Love Driven Justice Focus Group.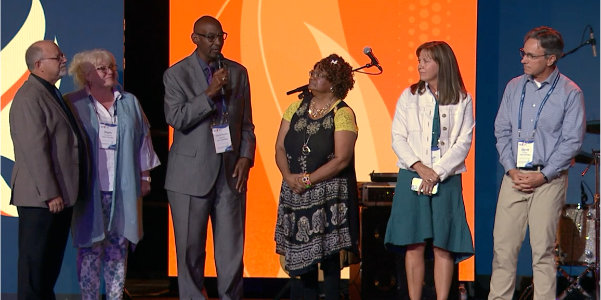 A particularly significant moment was the election of Rev. Dr. E. Kenneth Martin to the Board of Bishops. Bishop Martin's longstanding inspirational vision is set to guide the church in transformative ways.
Mark your calendars for November 18, 2023, to join an in-person celebration with Bishop Martin and his wife, Estelle. During this gathering, Bishop Martin will share his vision for the next four years and discuss how our conference can collaborate with FMCUSA to achieve our mutual objectives.
Furthermore, Soo Ji Alvarez, Faye Johnson, and Ed Song were elected to the FMCUSA National Board of Administration, reinforcing the church's forward direction.
Looking ahead, we are filled with a sense of optimism and divine anticipation for the direction of our Church. In our collective hearts, we feel a stirring, a gentle prompting of the Lord leading us towards a season of growth, unity, and love-driven justice. As we embrace this sacred calling, we encourage each one of you to join hands with us, trusting in God's guidance, and actively participating in this beautiful unfolding of His plan.