"Find a need, fill it. Find a hurt, heal it." This has been the motto of the Dream Center of Lake Elsinore since its inception, and Brett Masters, the organization's pastor and executive director, is the humble visionary who is organizing a movement that is working to restore the people of Lake Elsinore physically, emotionally, and spiritually.
The Dream Center is a volunteer driven organization that finds and fills the needs of individuals and families in the Lake Elsinore community in Southern California.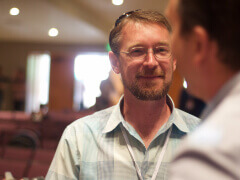 The vision began when Brett served for a week as a teenager at The Dream Center in Los Angeles with a discipleship program he attended. This trip ignited in him a passion for the type of ministry that takes place outside of the four walls of a church building. "I really felt that God gave me a prophetic vision of what he made me for," he says when he remembers that trip. Fast-forward more than decade to a church planting seminar Brett attended where he said, "Something broke in my spirit, and I couldn't sit still or keep quiet from that day forward. God was telling me to move and take action."
He put the vision on paper based on what God had shown him and began recruiting help. The first phase of the organization focused on prayer walking through the neighborhood in Lake Elsinore where the Dream Center now resides, which includes a large homeless population and high poverty levels, along with buildings and property in various stages of neglect and disrepair.
The organization began adopting blocks in historic downtown Lake Elsinore in 2014, which launched the Adopt-a-Block program that has met the physical, emotional, and spiritual needs of hundreds of people since that time. "We saw homelessness, poverty, hopelessness, and drugs. But we also saw a beautiful community full of rich history." Brett and his team of volunteers wanted to invest in the city where they lived and felt called to serve, so they started building relationships in the community and seeking out how to meet the needs of the families living there.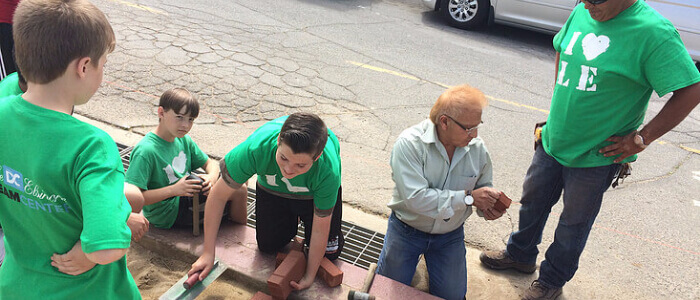 Brett believes building relationships is a gift to the community that helps people step out of poverty. "The men, women, and families we help will go on to share the love they've received, to pass on the hope they have been given, and to help make transformation possible for others." To him, it's a beautiful way to end the cycle of poverty and despair and to bring hope and Christ's love to hurting people. He and a few founding volunteers helping went door-to-door to the 1,000 homes in that community and asked each family how The Dream Center could help address the needs of the community in general and how can they could help each family specifically. Then they got to work.
Now, volunteers at the Dream Center come from 16 partner churches all around the city of Lake Elsinore. They provide several ministries to the community, such as a free summer soccer league where kids can be a part of a mentor relationship with a Christian soccer coach, distribution of free school supplies and diapers to needy families, along with the Adopt-a-Block program and Clean Extreme, which facilitates larger work and cleanup projects.
"I have seen a lot of brokenness and need and neglect and abuse," says Brett. But he's also seen God at work changing lives and transforming the community. "The atmosphere in our city has changed–it's tangible. There's a sense of pride of community that wasn't there before."
The volunteers at the Dream Center have seen streets and parks get cleaner. They've seen people getting out of poverty, including single working mothers who were barely surviving, now thriving. The changes have brought new businesses to town as well.
But along with the transformation Brett sees in the community of Lake Elsinore, he also sees the church being empowered and awakened. "We are being change," he says. "We are beginning to see the needs in our community with a tenderness and empathy. We are seeing that we are the hands and feet of Jesus." Brett emphasizes that it is not just the few in top ministry positions within the church that are called, but that we are all called. He believes that the vast majority of Christians in church feel like they don't have a role. But being a part of this organization is changing that. "One of the most satisfying things has been seeing people being empowered that God is calling them to help people in the community–that their gifts are meaningful and they are able to make a difference. I can't believe I get to do this!"
Because of this, Brett and his team are wasting no time in doing God's work in the community of Lake Elsinore. "We believe the church is the hope of the world," says Brett. "And if we believe that, what are we waiting for?"